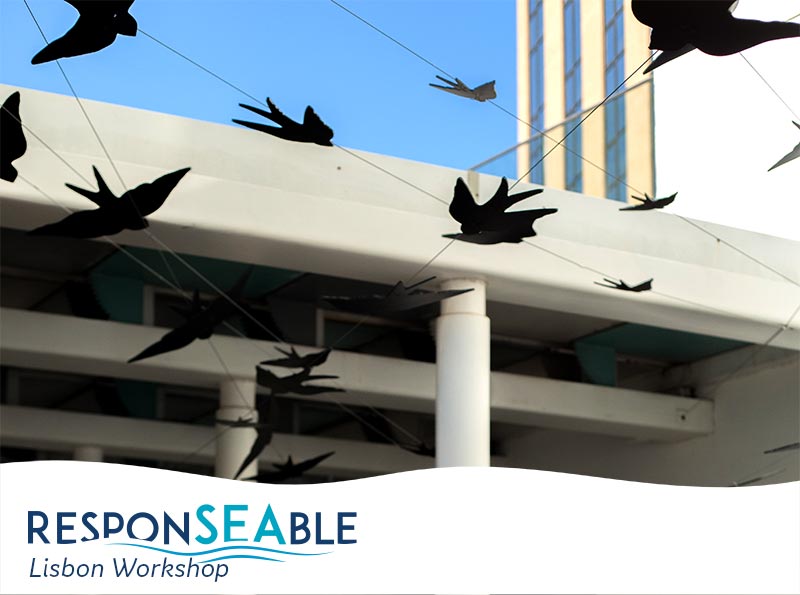 The event brought together about 30 people from different organizations working with ocean literacy in Portugal (from schools and university educators, research projects to other practitioners, NGOs, etc). The workshop was organized by Celia Quico (Lusofona University) to share the findings of the H2020 project ResponSEAble and to understand Portugeese perspective.
Pierre Strosser (ACteon) opend the workshop with questions about ocean literacy – what type of knowledge do we need,  for whom and link between ocean literacy and behaviour change – 'even if I am know, will I act? 'Taking a look at the images in the room of the museum 'XXx' he highlighted the importance of understanding the story of what is important to know for people to change their behaviour: what economic activities, what drives us to certain activities, how this changes the state and the impact, and what is a response.
In presentations and discussions the importance of different channels for targeting different audiences was highlighted – illustration brought by Erik Bogaard (ProSea) working with fishermen, and trust/preference of certain channels over others was presented;
The participants were taken out to try out 'ocean literacy 'game – presented by Johanna Ballé-Béganton ( UBO/Oceanopolis)  – which gave another example and approach how to engage with different audiences (first time piloted during the World Ocean Day in Porte Dorée Aquarium in Paris.
Importance of assessing effectiveness was raised by Matthew ASHLEY, University of Plymouth and one of the conclusions of the workshop was to apply the approach in the future – to help understanding and improving the way the ocean literacy products (courses, media, etc..) is produced and applied..
The workshop was completed with a quiz  – where participants were invited to test their knowledge in a interactive form with mobile phone – cahoot.it
As a results : it doesn't help to know whether you are good about the facts about the ocean. Most of the information that is usually checked in the quizes doesn't help us to change our behaviour.
It is viewed by many participants as a good way to raise these issues.
After the workshop, participants were invited to visit the museum.